How can we help?
Vaccination - preventative measures against the spread of systemic problems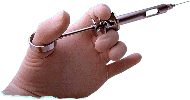 We fix systemic problems using a standard set of simple tools over an agreed period of time
It is rare for the project environment to be in such complete disarray that none of its practices are sound. More frequently, there are areas which need attention but others which should be left alone. Implementation meets much stiffer resistance and productivity suffers if too much is changed too quickly.
Changes should be focussed on areas of weakness; processes must accommodate projects of varying size and complexity.
As for individual projects, the use of a standard set of simple tools is effective in solving most problems.
Cost and time are tailored to need and should be value driven. A face-to-face approach is used.